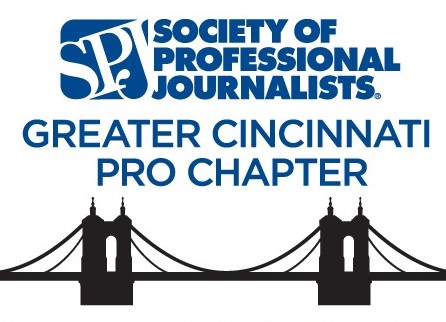 Attention
Freelancers! Journalists!
JOIN US FOR LUNCH
SOCIETY OF PROFESSIONAL JOURNALISTS
GREATER CINCINNATI PRO CHAPTER
AND GRAYDON
to present our
quarterly luncheon for freelancers
Date: Wed., Feb. 5, 2020
Time: 11:45 A.M. to 1 P.M. LUNCH
Opportunities for corporate content writing are an oft-overlooked by freelancers, but they can provide a source of supplemental income. Our panel will discuss various types of writing and platforms, including content writing, writing for agencies, publications and books. We will also cover details, such as pay rates, topics and how the writing process works.
Meet Our Panelists:
Sarah Hunt is a Cincinnati-based freelance feature writer whose work has been featured in a wide variety of print and online publications. Sarah also works as a freelancer in the corporate content creation field, focusing on topics like cybersecurity, enterprise data privacy, corporate legal issues and consumer trends.
Jack Heffron is a copy director at Barefoot Proximity, a Cincinnati agency that provides marketing strategy, content and channel integration for several Fortune 100 companies. He occasionally teaches magazine writing at the University of Cincinnati, and he is the editor of Best Fine Homes magazine, published by Comey & Shepherd Realty. The Cleveland Press Club selected his regular column in Cincinnati magazine as best in Ohio, and his work has been included in Best American Travel Writing. Since 2015, he has published two books on the Cincinnati Reds – The Local Boys (Clerisy Press) and Classic Reds (Kent State University Press).
Bonnie Jean Feldkamp is an award-winning freelance writer, columnist, and op-ed contributor. She is the Communications Director for the National Society of Newspaper Columnists, member of the Cincinnati Enquirer Editorial Board, and a board member for the Cincinnati Chapter of the Society of Professional Journalists. She lives with her family in Northern Kentucky. Find her on social media @WriterBonnie or at WriterBonnie.com.
Note Location: GRAYDON LAW OFFICES
1421 Main Street in OTR
Open to all freelancers and journalists including print, broadcast, radio and digital. Lunch will be served. There will be lunch, panel discussion, and time for a Q and A.
Cost: $15
Registration and Networking: 11:45 a.m. to Noon
Program: Noon to 1 p.m.
Questions: Ginny McCabe at gmwriteon@aol.com or at 513-604-6720